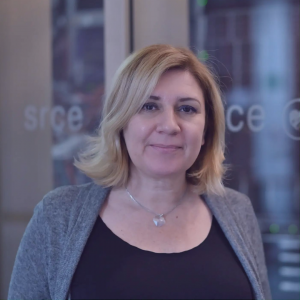 Sandra Kučina Softić
University Computing Centre University of Zagreb (SRCE)
Sandra Kučina Softić, Ph.D. is the Assistant professor and a Assistant Director at the University Computing Centre University of Zagreb (Croatia). She is also the Head of the E-learning Centre and the Head of the Office for E-learning at the University of Zagreb. Her work is focused on monitoring and fostering e-learning in Croatian higher education and providing support and advice to institutions, teachers and students in implementation of new technologies in learning and teaching. She was appointed Croatian representative in ET2020 Working group on Digital Skills and Technologies (2016-2018) and in ET2020 Working group on Digital Education: learning, teaching and Assessment (2018-2020). In 2018 she was appointed member of European Education and Training Expert Panel.
Her field of interest is strategic decision making related to e-learning and distance education, quality assurance, educational technologies and open education and open educational resources. She has been involved in a number of projects (national and international) related to these fields and she also actively presents at international conferences. She is also author of training courses for teachers and speaker on these topics. She has a master's degree in Digital Education at the University of Edinburgh (United Kingdom) and PhD in Information and Communication Technologies at the Faculty of Humanities and Social Sciences at the University of Zagreb. She has been a member of EDEN Executive Committee since 2013 and in 2014 she received the EDEN Fellow Title. In 2019 she became President of EDEN.
ORCID ID: 0000-0001-6689-325X
Sessions
DIGITOOLS – The future of open digital education | workshop

DIGITOOLS is a project aimed at introducing enhanced digital tools and methods to help university staff deliver quality education through online means. The DIGITOOLS project will develop five Intellectual Outputs which will support the teaching staff from Higher Education Institutions to acquire the skills and competencies needed to create and deliver high quality online courses, including blended teaching. As a result of the DIGITOOLS project, the universities will be able to provide, through teaching staff and libraries, high quality online training courses, with a focus on subject-specific teaching.