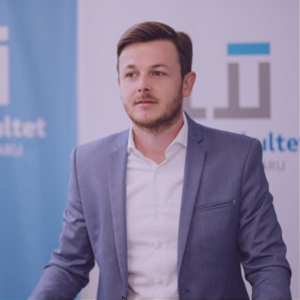 Marko Odak
Faculty of Humanities and Social Sciences, University of Mostar
Born in 1986. Master of Science, graduated from Faculty of Mechanical Engineering and Computing, University of Mostar (2010.). PhD in Information and Communication sciences, postgraduate doctoral study of information and communication sciences at Faculty of Humanities and Social Sciences, University of Zagreb.
Currently working as an Associate Professor at the Faculty of Humanities and Social Sciences, University of Mostar. Vice-Dean for Education at Faculty of Humanities and Social Sciences from 2017. Earlier Head of Department of Information sciences and Secretary of  Department of Information sciences.
Teaching several courses at the undergraduate, graduate and postgraduate levels. Academic interests fall within information and communication sciences.
Leader of scientific project "Comparison of the Perceptions of the Quality of Information Closed with Voice Signals and Computer-Synthesized Speech" funded by the Federal Ministry of Education and Science (2018).
In 2021 published the book "Digital transformation: New Approaches and Challenges in Education" in co-authorship with PhD Sandra Kučina Softić and Professor Jadranka Lasić Lazić, published by the University of the North.
Sessions
DIGITOOLS – The future of open digital education | workshop

DIGITOOLS is a project aimed at introducing enhanced digital tools and methods to help university staff deliver quality education through online means. The DIGITOOLS project will develop five Intellectual Outputs which will support the teaching staff from Higher Education Institutions to acquire the skills and competencies needed to create and deliver high quality online courses, including blended teaching. As a result of the DIGITOOLS project, the universities will be able to provide, through teaching staff and libraries, high quality online training courses, with a focus on subject-specific teaching.